STRANGE HAZE
...over Covington, Georgia
(3/17/99)
JOSEPH WRITES: "First let me say that I am a skeptic in my heart, but that includes being a skeptic of skeptics. I first noticed an unusual number of long-lasting contrails on two occasions BEFORE it was such a topic of discussion and speculation. I live in Covington, GA, which is about 30 miles due east of downtown Atlanta. Anyway, you will find attached five photos. Three of the photos show numerous overlapping contrails to the SW, NW and the East of my home on March 17, 1999 (I counted at least 15). I took these photos BEFORE I knew that a certain "Dave" of the north Atlanta area had sent similar photos of the same date and approx. time...
I observed these contrails between 9:45 and 10:15 am on March 17th. I believe "Dave" observed his about an hour earlier. You can see that the contrails (or whatever) are in all stages of development, from just being formed to spread to the point of appearing as clouds. Even the ones that appear as clouds (particularly to the East) started as contrails, until they covered almost all the sky. You will notice the multiple "Xs" and "As?". It is also interesting to note that since the morning of the 17th there have been NO repeats of this activity. If its the usual high-flying "traffic" where are they now and where were they before?
When zooming in on a couple of contrails I noticed (in both cases) something that reminded me of Art's "UFO" in his contrail photo. For all I know this is some kind of processing flaw or a piece of something on the film, but I don't think so. I did notice, as you will, some such flaws elsewhere on the images but they are more obvious. Anyway, I'll let you guys decide. So the two other photos are close ups of these alledged "spheres".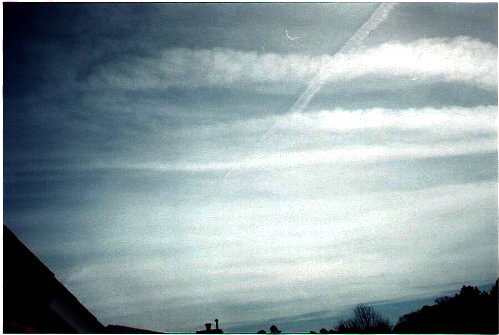 .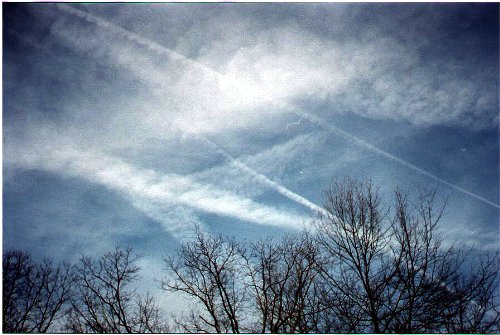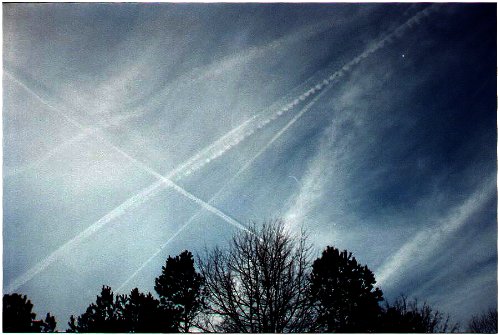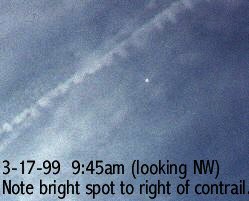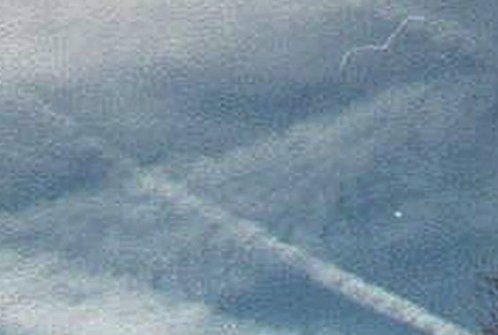 (ZOOMED CLOSE UP OF ANOMALOUS OBJECT NEAR CONTRAIL)