STRANGE HAZE

* PAGE 2 *
CHEMTRAILS NEAR RENO, NEVADA (click here)
On March 17th, unusual contrails were seen near Pyramid Lake, the next day the same witness saw them over his home near Reno.
OKLAHOMA CHEMTRAILS (click here)
Frightening news from Buffalo, Oklahoma. These chemtrails photos were taken on March 4, 1999. Two days later, the witness says: "...my grandson Jaycob had his first asthma attack, had to be taken to the emergency room and his blood O2 level was 4 points away from being in a condition incompatible with life."
MICHIGAN CHEMTRAILS FROM FEBRUARY (click here)
"Solstice" sent these unusual chemtrail photographs from Cadillac, Michigan, taken in February 1999.
CHEMTRAILS OVER ENGLAND (click here)
Once again, proof they're seeing chemtrails over in Europe. This is David Tilbury's U.K site with recent photos from Woking, Surrey, England.
CHEMTRAILS OVER NEW MEXICO (click here)
At this website, you'll find new chemtrails from Silver City, NM taken on March 16. The witness reports: "The chemtrails shown dissipated completely within an hour or so and formed into what appeared to be broken and widely-separated normal, white cloud formations. By 5:30pm the skies were completely overcast."
LOS ANGELES CHEMTRAILS (click here)
As a resident of southern California, I'm glad somebody had a camera out to capture what I saw on the weekend of February 27/28th. "Jahobyn" has some photos at his website and writes: "I have witnessed conttrail activity on Saturday, Sunday, Monday, and now Tuesday (27, 28 Feb, 1, 2 Mar) so-far (today is Tuesday). Today marked the most significant increase in Los Angeles contrail activity I've seen in recent weeks."
DESERT CHEMTRAILS (click here)
Apparent proof that the unusual chemtrails are seen even in the remote, unpopulated stretches of the country. At this website you'll find photos from a witness who says: "We recently traveled from Brentwood CA to Laughlin Nevada via highways I-5, CA and 164 and 95 Nevada. We were witness to many contrails during our 12 hour drive, and since I had my video camera I was able to get some footage...I do know that it was quite strange to be driving through Nevada on a "clear blue" day, and then to see jet after jet crossing the sky, and contrail after contrail dissipating eventually, and joining together until the sky was no longer "clear" but overcast...And yet not a single normal cloud was anywhere in sight. I have to admit...This did cause some paranoia in me! I felt that I certainly did not want to be breathing the air!!!"
CHEMTRAILS OVER SENECA LAKE, NEW YORK (click here)
At this site, you'll find no less than 32 photographs from Seneca Lake. The witness says: "New pics from Feb. 15 & 16 from my vicinity of upstate NY. This particular day of "exercises" went on all day this time!"
Is this Tennessee radar anomaly chemtrail-related? (click here)
KANSAS CHEMTRAIL ACCOUNTS (click here)
This Kansas resident has been keeping fascinating accounts of recent chemtrail activity in his area. The unnamed web-poster mentions: "We here are ill. Sinus drainage creating a coughing which won't stop. My wife and son has sinus infections, my daughter walking pneumonia, and I just sniffle and cough. I've called the hospitals and they are reporting up to 65% increase in respiratory problems. Hopefully, with a little persistence we'll at least get the pressure on to stop whatever it is they're doing."
CHEMTRAILS OVER SAN FRANCISCO BAY BRIDGE
PHOTOS FROM NORTH CAROLINA (click here)
Asheville, North Carolina resident Richard Levinson has new chemtrail photos for us from February.
AND THIS JUST IN: "Once again, they're having fun in the skies over Asheville. Today March 20, 1999 Saturday, starting at approx. 7:30 AM EST and continuing until around 1:30 or 2 PM, the skies were absolutely full of chemtrails. I had to go into town, and the view was incredible. They were everywhere. There were atleast 150-250 in the skies constantly during this time period. The spraying stopped around 2 and started back up again around 3:00 PM. As of this writing, they are now spraying, but not with the vengence they were this morning."
NEW PHOTOS FROM MISSOURI (click here)
Missouri resident Elizabeth O'Reilly has new photos from Springfield. In one of them, you can even see the plane in action!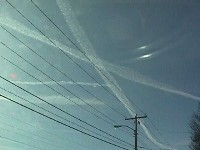 MARCH 9 -- DALLAS CHEMTRAILS! (click here)
Dallas resident Howard Albertson reports 25-40 chemtrails sprayed over Dallas on March 9th. Lucky for us, he had his digital camera and took photos.
Chemtrail investigator Will Thomas

This is reporter Will Thomas' web-site, he's done the most so far at investigating the chemtrails (he calls them "chemtrails"), and frequently updates his site to reflect new information. I suggest you check this out first, and be sure to read it all the way through. There's some very compelling reports from eyewitnesses, and Thomas makes an unnerving connection between the chemtrails and unusually high-numbers of unexplained illnesses in the afflicted areas, as well as changes in weather.

http://www.osei.noaa.gov/Events/Unique/Other/UNIcontrails042_N5.jpg

This is a government website devoted to satellite images of anomalous weather events. This particular photo clearly shows contrails blanketing the state of Maryland and portions of Pennsylvania. It was taken on February 11, 1999 (and remember -- it was unusual enough to warrant inclusion on their website).

Maryland Contrails

This is a Mr. Ian Goddard's website. He takes a skeptical view of the chemtrails (I disagree with his conclusions), but nevertheless provides some great photos of them. Here's the interesting part -- Ian lives in Maryland, and took his photos on February 11th -- coincidentally, the same day that the NOAA satellite photo was taken of Maryland (see above). So Ian provides us ground-based observations of the same event that a satellite photographed from space (and given the sheer scope of the contrails and the further sightings listed below, I feel this invalidates Ian's belief that the contrails are normal).

Sante Fe, New Mexico chemtrails

Clifford E. Carnicom's website. Clifford has done a remarkable job taking a series of photos in Sante Fe, New Mexico. They range from February 14, February 20, and March 2. Several of his photos clearly illustrate the progression of these chemtrails -- from thin trails to clouds.

This is the issue everyone's talking about so much, possibly hinting that the chemtrails are part of a government weather-modification program.

Clifford's photos continue at:

http://www.carnicom.com/contrails4.htm

http://www.carnicom.com/contrails3.htm

http://www.carnicom.com/contrails2.htm

http://www.carnicom.com/contrails.htm

Also consider that Clifford says visitors to his website have originated from:

-Desert Research Institute in Nevada (weather modification research institution)

-Fort Lewis Army Military Base in the state of Washington (home of special forces air squadron)

-Lockheed Martin (aviation and space defense contractor)
Kettle River, Washington chemtrails

"Fkisman" sent these photos, taken 100 miles north of Spokane in the summer of 1998.
Fort Worth, Texas

"Jlbtexas" sent these dramatic photos in from Fort Worth, Texas. They were taken in early-mid February.
Arkansas chemtrails

From Sightings, chemtrail photos taken over Arkansas in mid-January by a private investigator. He says "...I also interviewed a retired Air Force jet engine mechanic who was part of many experimental projects. He witnessed some of these contrails during an interview and stated he had never seen anything like that before. Everyone I have interviewed is, or has been, in military aviation and has never seen such activity."

Contrails over Southern California

More photos at Sightings, taken over southern California on February 13, 1999.

http://www.sightings.com/ufo2/contrailsimg.htm

Photos of chemtrails from Oregon, as well as eye-witness reports from Connecticut and New Mexico from February 1999. Says one witness: "The entire sky was 'canceled out' (covered) after about 5 hours of chemtrails being formed by jets. That's a lot of fuel, time, planes, pilots for whatever is going on. "

Another states: "My familiarity with commercial flight routes causes me to completely dismiss the possibility that these trails were caused by commercial jets flying normal commercial flights, I personally witnessed several jets fly due south for perhaps fifty miles and then turn 90 degrees to the west and continue to paint what I can only surmise is a surreptitious tic-tac-toe game of who knows what awful substance."

Contrails over New York

Another good series of chemtrail photos at Sightings, these come from a resident of Long Island, New York, who had this to say: "We are not scientists but we are aware of our surroundings and in all our years we have never witnessed any cloud formation or exhaust from normal aircraft creating what we have been observing."

Contrails over Virginia

Contrails photos from Flash1 over McLean, Virginia taken on January 27th, 1999.

This Contrail Public Information Ring owned by Strange Haze
[ Previous 5 Sites | Previous | Next | Next 5 Sites | Random Site | List Sites ]
To add you site to the ring Click Here